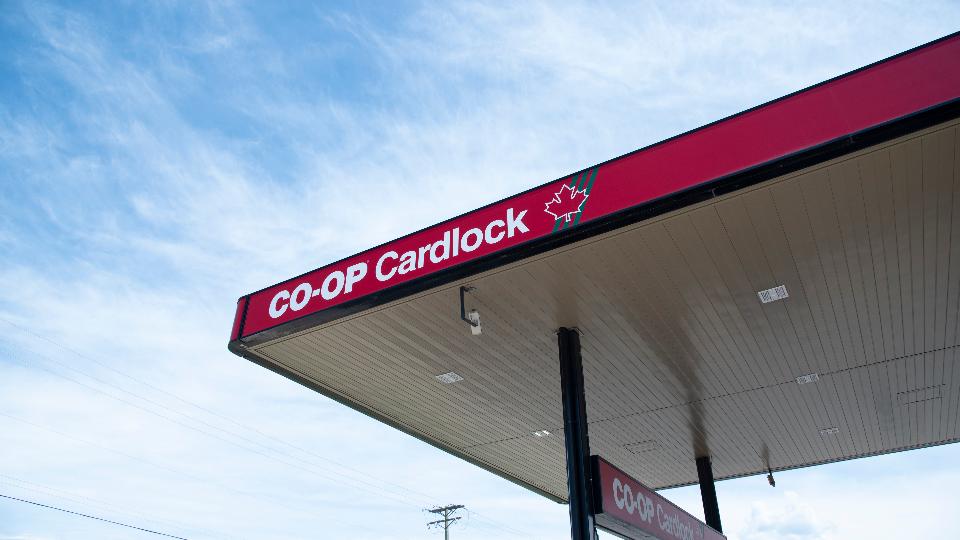 New Neepawa Co-op Cardlock
December 6, 2022
Updated March 27, 2023
Apply for a Co-op Cardlock Card by filling out an application, available at our Administration Office or calling 204-476-2328, or click the link at the bottom of the page.

Families and individuals will soon have a convenient way to access fuel in Neepawa 24 hours a day, 7 days a week. Whether shiftwork has you starting early or leaving late, or you're looking for an additional way to fuel your vehicle on busy days, you can get fuel when it's best for you.
The new Neepawa Co-op Cardlock is now open on Highway 16, east of Neepawa and across from Hylife! As of March 27, 2023, clear products and DEF are available. Dyed products will be available soon.

Every time you fuel at one of our cardlocks in Neepawa or Gladstone you'll continue to earn equity, which may be paid out as cashback in November.
By joining the Co-op Cardlock network, you also get access to 380 cardlocks across Western Canada so whenever you travel the Canadian prairies you can rely on a fuel stop being there when you need it.
What is a cardlock and how is it different than a gas station?
A cardlock is a self-serve fuel stop that requires a Co-op Cardlock Card. This card gives you access to both Neepawa-Gladstone Co-op cardlock locations plus hundreds of other cardlocks across Western Canada including Winnipeg, Brandon, Dauphin and Winkler.
| | |
| --- | --- |
| Cardlock | Gas Station |
| Self-Serve | Full Service |
| No payment at pump, invoiced out later | Payment at time of service |
| Requires a Cardlock Card | Anyone can use |
| Access 24 hours a day, 7 days a week | Access only when gas station is open |
| Easier access for large vehicles (RV, Fifth Wheel, Trailers, etc) | |
When you fuel at a Neepawa-Gladstone Co-op Cardlock you'll also earn equity and cash back which may be paid out yearly in November.
How to get a Co-op Cardlock Card
To get a Co-op Cardlock Card you will need to:
- Be a member of Neepawa-Gladstone Co-op. If you're not yet a member you can join online now.
- Apply for a credit account by calling our Credit Manager at 204-476-2328 or coming into our Administration Office in Neepawa
After your application and credit check are approved it can take up to two weeks for your Co-op Cardlock Card to arrive in the mail.
How to use a Co-op Cardlock
Co-op Cardlocks are self-serve fuel stations. When you pull up to the pump, you'll need to swipe your card, input your pin number, and select your pump/grade of fuel you require. The pin number security feature gives you protection if your card is ever lost or stolen.
Our Neepawa Cardlock opening in early 2023 is in a well-lit area on Highway 16 East of Neepawa, across the street from Hylife. Our Gladstone Cardlock is adjacent to the Gas Bar in a well-lit area on Highway 16 South-East of Gladstone and attached to the C-Store. The Gladstone location also features access to washrooms 24/7.
Each month you'll receive an invoice for you fuel usage by email which can be paid by:
- Visiting the Neepawa-Gladstone Co-op location nearest to you
- Mailing a cheque
- Most local banks will allow direct payment
For locations, hours and mailing information, view our Hours page.
By joining the network of Co-op Cardlocks you're getting reliable access to fuel for your family. No matter what your day entails, you can count on Neepawa-Gladstone Co-op Cardlocks to make fuelling your vehicle convenient. Unlock the benefits of the Co-op Cardlock network by applying now. Call our Credit Manager at 204-476-2328 to get started or download the application below and return it to any Neepawa-Gladstone Co-op location.