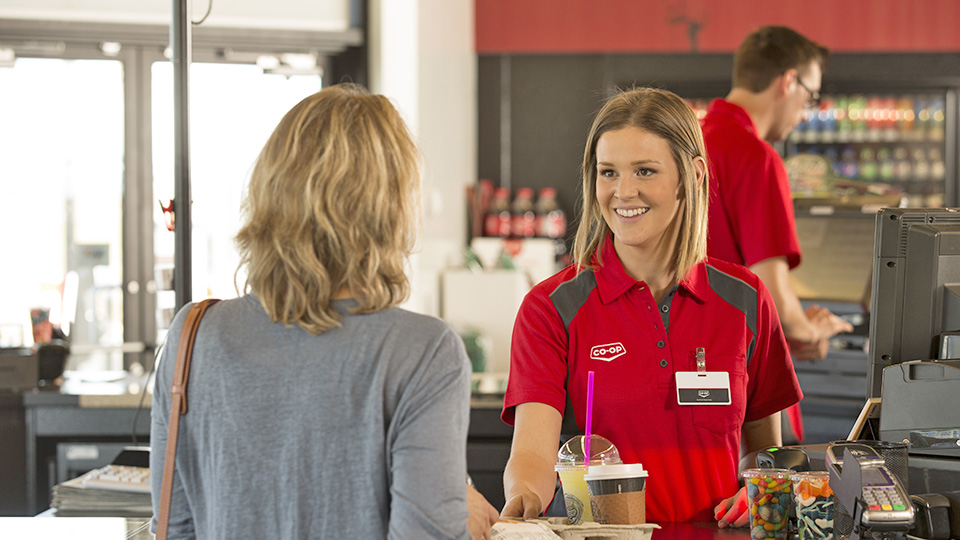 Co-op Fuel & Convenience
September 18, 2019
Manitoba weather can be unpredictable, but you can always count on Neepawa-Gladstone Co-op's Gas Bar staff to be ready to serve you. In the rain, wind or snow, our pump attendants are here to give the full service you have come to count on.

At Neepawa-Gladstone Co-op's Gas Bars you get extra service at no extra cost. Whether you're cruising Highway 16 or counting on reliable service to get you to soccer practice, we have a range of services to get you where you need to go.
When you stop at a Neepawa-Gladstone Co-op Gas Bar you can count on:
Being asked if you want your windows washed or your oil checked
Free air for your tires
Spotless washrooms
A wide selection of snacks and drinks, including locally produced Farmery Malted Soda
ATM's
And friendly Team Members to serve you.
Don't forget to give yourself, and your furry friends, a stretch in the green space behind Neepawa Gas Bar!
Please see our Hours, Contacts and Location Info page for location details.
Convenience Store
Neepawa-Gladstone Co-op Gas Bars have become a respite for travellers and a reliable destinations for our members. When you're on the go you can count on our selection of satisfying snacks, fresh Co-operative coffee and Big Cool slushes.

Car Wash
Manitoba roads can leave your vehicle looking a little dusty. Stop by Neepawa Gas Bar to get your vehicle shining again. Our Neepawa Gas Bar features four indoor wand wash bays, an automatic car wash and a pet wash.

Propane Refills
Whether you're refilling your propane cylinder for backyard barbequing or a camping trip, propane is an important part of summer's fun activities! Stop by either of our Neepawa-Gladstone Co-op Gas bar to get your propane cylinder refilled today.
Card Lock
Our Gladstone Cardlock is conveniently located next to the Gas Bar at the corner of Highway 16 and Highway 34. It features 24/7 access to fuel, clean washrooms, laundry facilities and showers.
Please see our Hours, Contacts and Location Info page for location details.

Click here to find out more about Neepawa-Gladstone's Cardlock and Bulk Fuel.
Earn Cash Back by Becoming a Member
You need gas to get around so why not earn cash back as well? When you become a member you get equity, cash back and a vote in how Neepawa-Gladstone Co-op is run. Click here to find out how to become a member today.

Are you interested in a career at one of our Gas Bars? Click here to see our Job Board.

Discover more: